MENU:

>_ HOME PAGE
>_ ME
>_ GAMES ANTHOLOGY
>_ GAMES AND DEMOS PROGRAMMING
>_ BUY GAMES AND RETROGAMES
>_ CONTACT ME
>_ SEARCH
>_ CREDITS

WHO I AM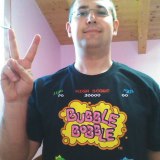 Name: Roberto Comuniello Job: Videogames seller, Multimedia developer
Location: Verona, Italy
Birth date: 20-09-1973
I am a former multimedia programmer who owns a videogame shop: Power Games I like to play and collect videogames.
I am somehow connected with ITALY and RUSSIA.
Currently I speak in Italian, English and I am still trying to learn Russian.
I got married on 07-11-2002 (and yes, it is definitely connected with my Russian bound).
We have two daughters, born on 02-03-2007 and 11-01-2013.
I would like to thank all people who supported me since my birth day, especially my family. Thank you for all!